ABOUT US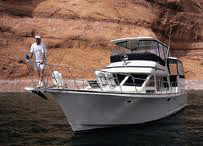 OUR START
The humble beginnings of Executive Boat & Yacht Brokerage started in 1990 when Kory Toone (pictured to the left) and his father Millard began detailing boats. They were often times asked to help show, demo and sell boats for owners and decided to turn their passion into a business.  Now this family business has grown to be the single largest boat brokerage in the nation. If you are looking for one source to learn all about boats and boating, this is the place. Our team collectively has  over 100 years of experience in the industry. We truly are, "Your One-Stop Boat Shop."
A WHOLE LOT OF BOATS!
In 2001, the brokerage acquired a four-acre display lot at 3733 South Main Street in Salt Lake City, Utah. We currently have hundred's of boats ready to find new homes. You'll find an additional 500 boats in our inventory at various lakes and marinas throughout the west.
The brokerage is also an authorized dealer of new Hurricane Deck Boats and Sweetwater, Aqua Patio and San Pan Pontoon Boats. Ours is a completely unique situation in that the corporate offices and outdoor boat lot are inland and land locked, while most other brokerages are situated on coastal waters and marinas.
In this business, not only do you have to be able to pilot a one-million-dollar yacht, but know how to crate all the equipment and electronics as well. We help our clients purchase and sell high end yachts and boats, as well as personal water crafts, sailboats and more!
OUR CONCIERGE SERVICE
Although the offices are on land, this crew demos every boat (weather permitting). That means you can take your new boat for a test drive on any number of our local  area  lakes. The demo focuses on verifying the mechanical and operational condition of the vessel as well as teaching sportsmanship and safety.
Why is purchasing an inland boat so popular?
Nationwide clients love how the brokered boats are from fresh water lakes with low hours. Boats maintained in fresh water have far better, long-term mechanical functioning than those docked in salt water. Our crew makes frequent trips to the airports to retrieve clients who fly-in from around the country to demo our boats.
Where are most of these boats going?
Our client's first choice to take their new boat is Lake Powell, followed by Lake Mead and Flaming Gorge (which are the largest man-made lakes in North America). The company's reach is both national and international. Our boats have been sold or delivered from Florida to Alaska, from Mexico and even to Egypt.
Besides enjoying what we do, our crew takes boating very seriously. Our is: "Boating is not a matter of life or death, it is much more important than that."